In the Stewart family archive there is a picture of the Stewart Four. Eldest sister Loretta poised at the piano, fingers at the ready, seemingly taking direction from the Lord Himself. Sylvester looking wise like Solomon, Rose intense, Freddie, even then spiritually dapper. The baby Vaetta has her head cocked to the side, ready to sing. Vaetta "Vet" Stone's evolution would eventually culminate in the creation of Little Sister, a dynamic trio of women who were an integral part of Sly & The Family Stone from the beginning.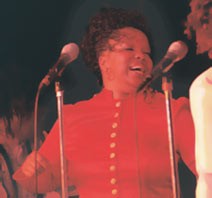 Prior to Little Sister , Vet was recruited into the gospel group, "The Heavenly Tones" of The Ephesians Church Of God In Christ in Berkeley, CA. The other members were Elva Mouton, Mary McCreary and Tramaine Hawkins. Gospel legends James Cleveland, Shirley Caesar and Albertina Walker were mentors of the group. James Cleveland produced their first album on the renown Savoy label. The "Tones" sang with all the top names in gospel music at the time.
At age 17 Vet suffered a serious illness which nearly curtailed her career. Despite dire
predictions of the Doctors, Vet was miraculously healed in a very short time and joined Sly & The Family Stone as a backing vocalist, which preceded Rose Stone joining the group.
She went on the road with the group, playing such interesting venues as Lil' Bo Peeps in San Francisco, The Sugar Shack in Boston, celebrated Madison Square Garden and legendary Woodstock.
Sly started writing material for Little Sister. The group came to fruition with the addition of Elva Mouton and Mary McCreary, who also went on the road with The Family Stone .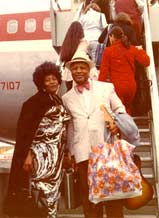 Big Momma and Poppa Stewart
2005 finds Vet a member of the Praise & Worship Team at Evangelist Temple Fellowship Center in Vallejo, California, Pastored by her brother, Elder Frederick Stewart (Freddie Stone). Formerly the Choir Director, Vet's Music Ministry includes the founding of her group, Phunk Phamily Affair - recently renamed by Sly himself as The Family Stone Band - rocking houses from San Francisco to New York. CO-founding members include Cynthia Robinson (Sly & The Family Stone), Lisa Stone (daughter of Rose) and Grammy winning vocalist Skyler Jett.
It's no mystery music lovers! The Stone Family is still making history. We encourage you to return to this site for updates on this exciting venture...
Funk Music is alive!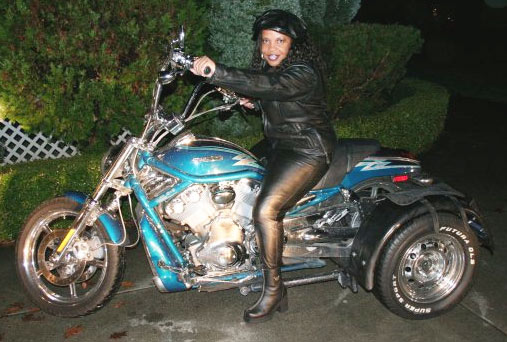 Vet, on her brother Sly's Trike.